Surf
An amazing surfing experience is offered directly out front of Maqai Beach (pronounced as "Munguy"). Whether your a weekend surfer, beginner or advanced level Maqai is the wave for you in Fiji. The reef does not go dry at low tide like places such as Cloudbreak and remains covered at all tides, and it is a flat coral reef and the wave ends in a deep area. Staying at Maqai Resort you can't get any closer to the waves, they are directly offshore – no long boat rides to cut into your surf time – a 5 minute boat ride will have you surfing Maqai. Surfing is possible year round in Fiji with two distinct surf seasons. The summer season from November-April and winter season May-October. The summer season is associated with smaller, shorter duration swells, 1-3 days. During this time the conditions are known as 'marine tropical' – glassy or light winds all day and hot with afternoon showers. This is the prime surf season for the South Pacific Island in terms of wind conditions; lots of light wind and glassy conditions, with changeable winds with the afternoon showers.
From April to October the low pressure systems in the Southern Hemisphere produce consistent ground swells which can get up to triple overhead. During the winter season, the South Pacific SE trade winds are predominant (especially from June – September) and can blow offshore at our left-handers, Kavas and Bula Bowls, for 5-10 days at a time, then there is usually a few days to a week of calm winds between the weather patterns and these cycles continues through the dry-season – these windows of calm between the trade winds are when the right-handers can be surfed.
During the summer season (November – April) the rights (Maqai and Purple Wall) really fire up and Maqai becomes a true surfer's paradise, with warm water, no crowds, and various options suited for all levels of surfer.
Located 1000 m directly in front of the resort is 'Maqai right', a machine like wave with something for everyone, regardless of ability or wave craft. Breaking on a forgiving coral reef, the first section of the wave allows the experienced surfer to get deep barrels, before working into a very rippable face and mellower barrel section. The end section is perfect for intermediate and beginners alike, as it ends in a deep channel, and can offer up 100 metre plus rides. Virtually any size swell from the south works here, from 1 foot to triple overhead, and can be surfed at all tides.
The Purple Wall is a 15 min boat ride to a shallow reef off the coast of Taveuni. Purple Wall is a thick fast right-hander that is a heavy wave in long-period swell and only for the competent to expert surfers at mid to high tide. Unlike Maqai, it is a sharp reef and an unforgiving wave, that throws up deep barrels and solid walls for the experienced surfer.
There are also 3 left-handers close to Maqai. The best of the bunch is Kavas, which is just 600 m across the reef pass from Maqai right. It works in the trade-winds and is best surfed at high-tide; some coral bombies are exposed here at low tide. It is a fast, walling left for competent to expert surfers, with barrel sections and fast walls for carving.
Bula Bowls is located on the other side of the reef from Maqai right (also straight offshore from Maqai), a softer breaking wave than Kavas and suitable from intermediate surfers up. When the swell is smaller, it's a friendly left hander that can offer up shorter, but fun, waves. On big swells another heavier wide peak starts firing, and can offer up back-door barrels and big carves for the experienced.
Around the corner at Black Rock (10 mins from Maqai), is a fickle wave known as Left-Overs; a short fun wave that breaks down the edge of Black Rock during south swells. It is not as consistent as the other breaks, but can provide a good alternative when the SE winds are strong and there is a solid south swell. There is small fun learners and long-board, paddle-board and bogey-board wave right in front of the resort at high tide either in front of the sand bar on the artificial sand bag reef or down to the right edge of the resort.
The shoulder months between April – May and October – early November can often receive light and variable winds producing many glassy days. Many surfers test the shoulder months for early to late swells and score the glassy conditions.
Recommended surfboards are a short board for the small fun and medium days, and a larger semi-gun for the bigger days in the winter months. Board shorts can be worn year round, while a rashie, (wetsuit top) & sunscreen and zinc are needed for sun protection. Booties are optional to protect the feet from the reef while surfing, but imperative for coming back to the resort during low tides.
A recent guest had a Ripcurl GPS watch which measured his surf time, wave speed and length. The data from the surfer showed just why surfing in Fiji at Maqai is pure magic and a real wave-riding paradise:
Day One – 3 sessions in one day, 5hrs:10min in the water, 73 waves in total, traveled a total of 28.8

km, top speed 34 km.

Day Two – 2 sessions, 2:45 in the water, 54 waves in total, top speed 37 km.
Luke Kewming – Maqai, Fiji
January 19, 2017 By Tim Baxter
It is no secret that Fiji is home to some of the world's best waves. Cloudbreak and Restaurants, Fiji Pipe and Frigates are names that are synonymous with surfers from around the world, and these locations have become a Shangri La for surfers since the early 1980's.
However, the Fijian archipelago consists of 300+ islands scattered through the South Pacific Ocean and a large majority of these islands are mostly unexplored by surfers.
In the age of Google Earth and swell forecasting websites, it's extremely rare a surfer would ever feel like they are exploring uncharted waters or have discovered a new treasure. My last surf trip to Fiji I felt like I was the only surfer for 100kms and maybe I nearly was.
I first heard about Maqai Beach Eco Surf Resort 12 months ago. A small surf camp set up by an intrepid bunch of surfers looking to escape the crowds and find their own slice of surfing paradise. Consistent quality waves; uncrowded; affordable; relatively easy access…..I found it hard to believe that such a place could still exist these days!
I scoured maps, studied swells and discovered the prime wind/swell window November to April coincidently aligned with my annual leave, I had to check it out.
Family holidays based around surf trips are nothing new for my wife and 3 year old son and the promise of a secluded beach surrounded by tropical rainforest with 24C+ degrees crystal clear water meant they were easily persuaded.
Getting there.
From Australia we flew overnight from Melbourne to Nadi (flights leave most Australian cities daily); once at Nadi Airport cleared customs, collected luggage and walked over to the domestic terminal.
At the domestic terminal a 20 seat Twin Otter plane was waiting for a one hour flight over to Taveuni Island where we were met at Matei Airport by the Maqai Beach Resort representative. Luggage loaded into the 4×4 van and a short scenic drive along the coast brought us to a small cove where we jumped on a boat for the 30 minute trip over to the resort.
On the trip over to Maqai we passed all the main surf breaks and got an idea of how the setups looked; I was getting pretty amped by this stage.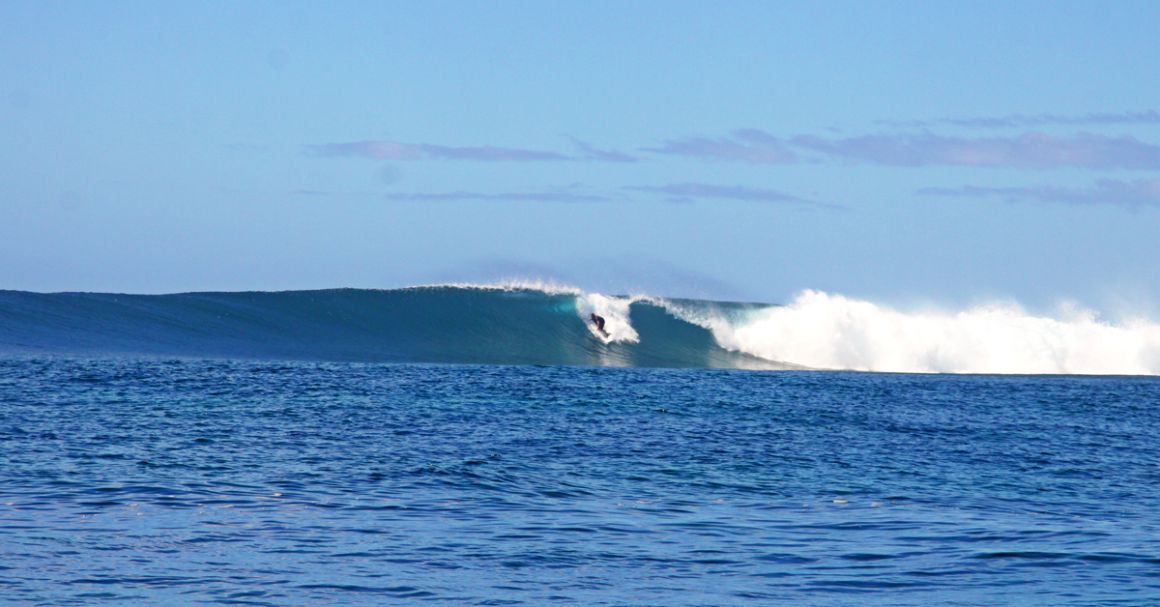 Surf:
My first trip out to the Maqai Right reef it was easy to see why this is one of Fiji's best kept secrets.
It felt surreal surfing in mirror conditions with perfect waves barreling down the reef with not another surfer in sight. I can't even remember the last time I got to pick and choose waves.
I was the only guy surfing for six out of the eight days of my stay at Maqai.
You quickly familiarise yourself with how the wave works.
There is a defined easy entry point mid-way up the reef giving you a long wall to work with, however the further you move up the reef the hollower and longer the wave becomes.
From right up the reef you can get a great barrel and as the wave bends down the reef you can open up and lay down some turns.
Bigger waves have a long easy going wall, the mid size waves run down the reef a bit quicker giving the wave a "better" shape for faster barrels and sharper surfing through your turns – I enjoyed these conditions the most.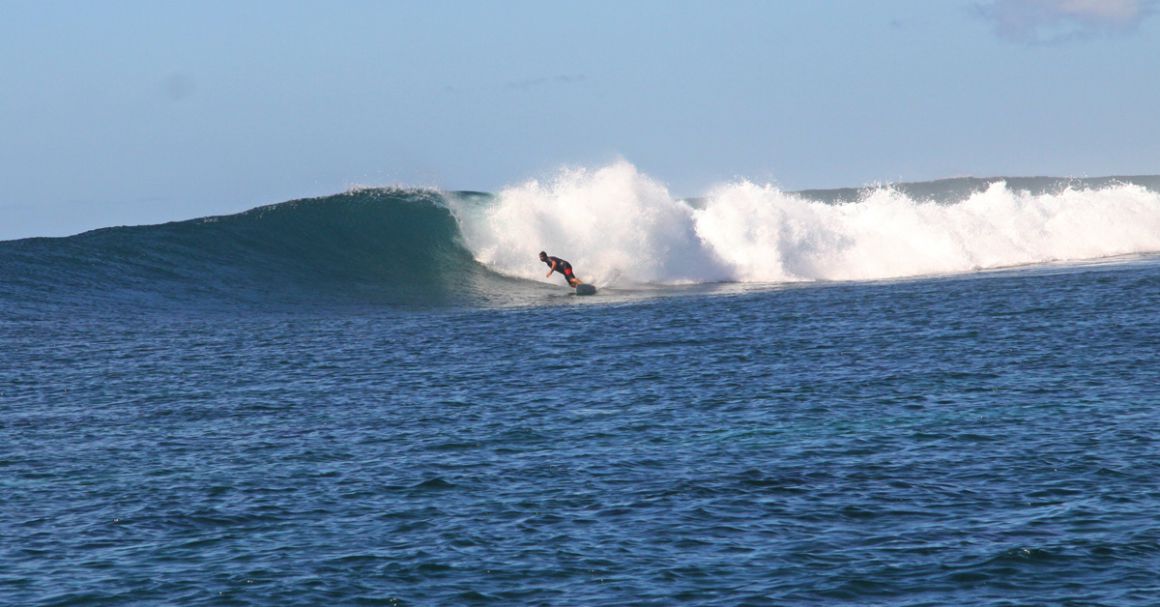 Apart from Chad the surf guide and young Uli; Maqai Beach Resort's Fijian boat guy; I only surfed with one other surfer being an intermediate level surfer who rode down the end of the reef taking off on the wide rollers and riding them until they faded out into the deeper water.
Maqai Right is one of those rare waves that is perfect for every level of surfer; barreling from out the back but gently rolling way down the reef at the end.
There are a few other breaks in the area that I checked out but Maqai Right is the pick of the bunch and it was firing for my whole stay so just racked up a massive wave count on my own out there.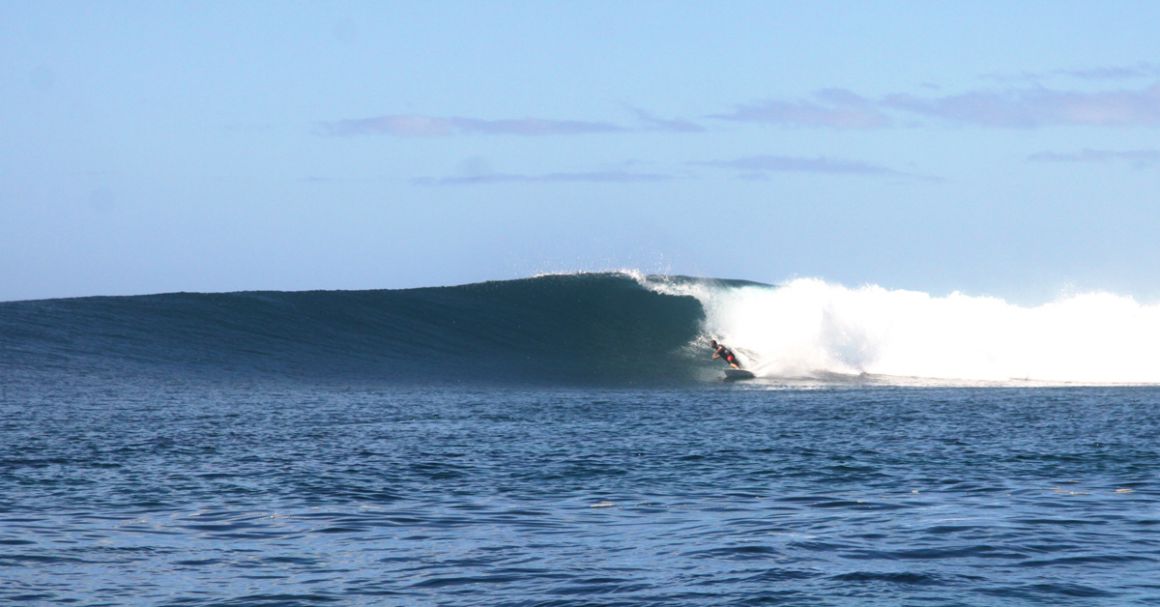 Resort Accommodation & Facilities.
Maqai Beach Resort advertises their bures as "glamping" (glamour camping) however we were pleasantly surprised with how good these simple bungalow style beachfront bures were.
Spacious: Our bure had a queen bed and a single bed, a bathroom with shower and toilet, and plenty of space to store our luggage.
Stylish: Louvre windows let the breeze through and bure tastefully decorated.
Practical: Mosquito proof as all the louvre windows had fly wire and the beds covered with mosquito nets.
Comfortable: A large deck area with sun lounges right on the water's edge so you could jump straight into the lagoon. Also new comfy beds – I could even check the surf lying in bed.
Fortunately I didn't need to check the surf because Jeff, the resort manager assured me it was going to be good for the duration of my stay.
Sandbar Restaurant: Hearty meals were served up each day and the beer was ice cold which was perfect for the evenings; or gin & tonics and cocktails were also favourites.
There was plenty of the usual tropical island activities; snorkelling, kayaks, fishing, village tours, rainforest and waterfall walks.
I've travelled in many countries and surfed some of the world's best locations in Europe; Indonesia and the Maldives but our trip to Maqai Beach Resort was one of the best surprise gems of my travels; beautiful tropical beachfront location, an awesome break and no hordes in the lineup!
Contact us to book a Surf Package