SUSTAINABILTY PRINCIPLES
The ongoing promotion and facilitation of sustainable principles and practices for both guests and staff alike is integral to the ongoing success of Maqai Eco Resort. Maqai provides an island getaway in a beautiful pristine environment with cultural interaction with the local Fijian people. Environmental management strategies are implemented across the board, from water and waste-water management, to renewable energy, the principles of reduce, recycle and re-use, utilising local building materials, organic fruit and vegetables, coral reef protection, and ongoing support and training to up-skill staff in sustainable business practices. Our guest rooms are equipped with a comprehensive information booklet outlining our sustainable practices.
AWARDS
Maqai Eco Resort proud winner of ANZ Fiji Excellence in Tourism Awards 2016/17 in the Sustainability category.
Tripadvisor Certificate of Excellence Awards 2017. 2016. 2015. 2014. 2013. 2012. 2011

MAJOR INITIATIVES INTRODUCED
Local Employment at all job levels and Village Inclusion.
Solar Power (Renewable Energy). Resorts can have a relatively large carbon footprint through power generation if generators are used. Over the past 4 years, Maqai has increased the resorts solar power capacity to the extent that the diesel generator (lower emissions than petrol generators) usage is ~5% of total power production, power-points are centralised to the main building (the Sandbar), with low power light bulbs now being replaced by extremely low demand LED lighting.
On-site wastewater treatment system. In terms of water and waste-water management, with a small area of land (5 acres) it is imperative to ensure there are no chronic negative impacts on the receiving environment (i.e. the adjacent coral reef system). Along with a modern wastewater treatment system, limiting the number of people at the resort ensures that the land has the capacity to absorb and clean wastewater. The system is regularly cleaned and maintained.
Implementation of an organic vegetable garden supplying staff and guest food;
Waste Minimisation and Plastic, cans and bottle Recycling. The principles of r e-use, repair and recycle are applied throughout the resort (plastic, metal and glass are sorted and taken to Taveuni for transfer to recycling centres (in Taveuni and Suva) on a monthly basis.
Coral Reef Protection. Fishing the reef in front of the resort is prohibited, no kayaking at low tide and guests are educated about protecting the fragile corals – foot and boat traffic is focussed along 2 routes (high and low tide) to ensure that the reef is not trampled and disturbed.
Coral gardening. We Have recently extablished coral gradening, you are welcome to join this exciting project.
Environmental Education for guests and locals. For example, turtle protection and life-history, eradication of crown of thorns (following the cyclone Tomas outbreak), identification of local plants with medicinal efficacy along the jungle walk, etc.
Sustainable Buildings made from recycled and local materials.
Food scraps are sent to neighbouring village for pigs, which are later purchased by the resort.
Local village trips which include educating tourists on the American Iguana pest
The major outcome is that Maqai still has rich and healthy terrestrial and marine environments after 6 years of constant operation as it continues to develop sustainably.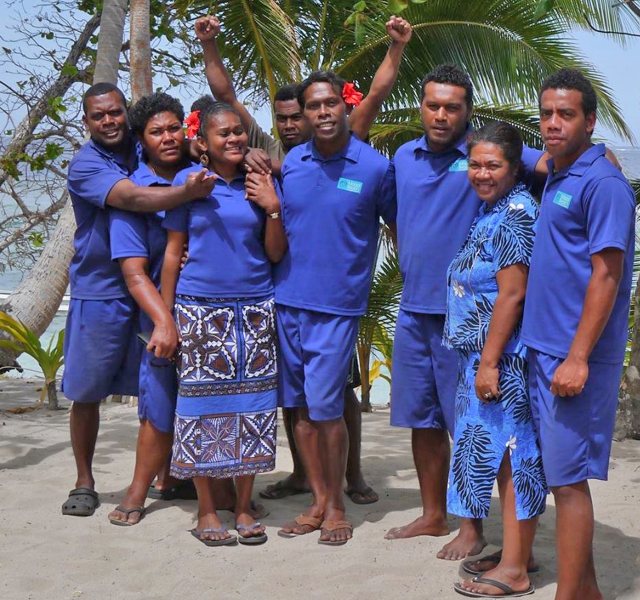 BEYOND THE RESORT CONTRIBUTIONS
Maqai works in unison with the neighbouring village of Naivivi who have been gifted 10% ownership of the resort. Directors and managers meet with the chiefs to discuss future goals and initiatives – through these meetings and the education of staff at the resort, the principles of sustainability are being transferred to the local Fijians. Social and economic sustainability is also a goal; Maqai regularly utilizes the local meke singing group, has recently employed a church group for thatching of bure roof, employs local contractors, supports applications for village boats and employs a local village man for guest transfers in his boat, purchases fish from local fishermen, houses Loloma Foundation members for free to assist with medical treatments on neighbouring islands and gives free nights for fundraiser auctions, sells ladies handicrafts on behalf of the village, has gifted brush-cutters to the neighbouring village, purchases wood form neighbouring village, and employs local villagers. Future environmental initiatives include identifying and gazetting a large Marine Protected Area for the people of Qamea to help support fisheries and food security and providing free attendance for up to 5 local students to attend a coastal environment course at Maqai.
Our mission is to support the medical and dental systems in the South Pacific. In operation since 2001, the Loloma Foundation have treated more than 90,000 patients
http://www.lolomafoundation.org/
RESPECT AND ENGAGEMENT WITH LOCAL CULTURE AND COMMUNITIES
Maqai Beach Eco Resort respects and works in unity with the local village. All staff are employed from the neighbouring village of Naivivi (the iTaukei leasee) and they are also a 10% shareholder of the company (undilutable). Maqai is unique in that the management team are from the local village, with the resort currently providing employment for 17 local staff. In an area where employment is scarce the resort has become the backbone of the community. Our guests are immersed in the Fijian culture. The resort provides rocky shore trips where the staff relay the importance of the sea for their livelihood, and provide sea grapes and pickings form the sea. Join in Meke (dancing) and fire shows, daily meals infused with Fijian cuisine, traditional Lovo once weekly where guests get involved in the entire process throughout the day, Kava ceremonies, Fijian local band entertainment, village visits, local handicrafts sold on behalf of villagers, basket weaving, coconut bracelet making, talks on the importance of coconuts to Fijian life and of the history of Qamea and the local site where Maqai is located with the stories of the past spirits and legends. The "Maqai Magic" is a local Fijian product and experience.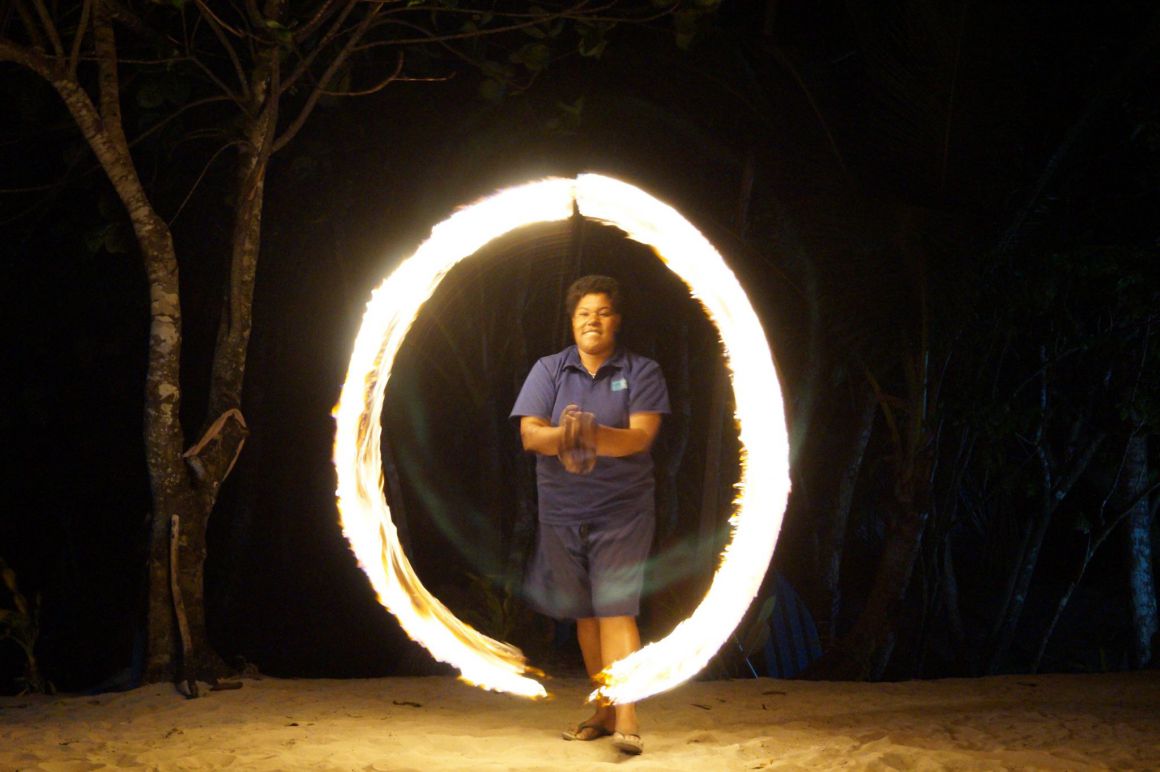 LOCAL COMMUNITY DEVLOPMENT AND FUTURE GOALS
The business Sustainability Plan has contributed to the local development through support of boat acquisition, sending staff to training in Suva, purchasing as a priority from the local village, sponsoring a local girl to medical school and many other initiatives. We support the local sports teams with money and uniforms and the local schools with equipment and supplies, including food after the 2010 cyclone with many thousands of school lunches provided to the children whose family crops were devasted. We are committed to continue working collaboratively with the local village and elders and chiefs to ensure a prosperous and sustainable future with good wellbeing and opportunities for the Qamea people. No money has ever been taken out of Maqai Resort by Directors or shareholder's, it has been put back into the resort and local community. This will remain the main goal of Maqai into the future. "A Better Fiji for All". One financial indicator with that demonstrates contributions of Maqai to the local community is a comparison of the 2006 socio-economic survey of the villages on Qamea Island that found at that time the average income was $70/year/family – last financial year over $200K was paid to the local villagers in wages; all staff are paid well above the minimum daily wage rate.
INNOVATIVE SUSTAINABILTY PRACTICES INTRODUCED AS A LEADER / ROLE MODEL
Maqai Resort has been innovative in its quest to ensure that there is a balance in development so that it can have a sustainable future both in terms of a business that can provide local opportunities of employment and well-being, but also and most importantly to ensure the physical and ecological environment is not only protected but enhanced as part of any development. The innovation has occurred on two fronts:
1) To provide a resort where the business, environment and local people can provide an ideal case study in action for students to study through experiential learning and immerse themselves in how surf and eco -tourism can create "A Better Fiji for All". As an example the resort has hosted a tertiary level course in 2014 organised in conjunction with Maqai Resort and San Diego State University – Centre for Surf Research; titled "Cross cultural Interactions in Surf Tourism – Sustainable Surf Tourism Immersion Course". The course was a great success and more are being planned.
2) Innovation at Maqai began right from the start of the business with the bures recycled from the TV Survivor Fiji series, where post the show the bures were heading to the municipal land-fill, but were purchased by Maqai to use at the resort. Following on from this sustainability practices were incorporated into all the business. For example: installation of solar power, on-site wastewater treatment, recycling of all rubbish, and purchasing only local produce. However some real innovation has occurred in regards to not only protecting the coral reef, but enhancing it at the resort. The coral reef was protected as a Marine Reserve in consultation with the village, and with an artificial reef constructed of geotextile container bags (40m x 3m) in front of the resort to assist with protecting the coral, creating focused access to the resort and making surfing waves for learner surfers. This was the first of this type of project in Fiji, and has featured on National New Zealand's Pacific show and in various other publications, including being presented at an International coastal conference in Sydney in 2013.
SUSTAINABILTY PLANS FOR THE FUTURE
Our vision and plan for the future is that we will always aim to employ local people in all levels of the business including management, and teach the necessary skills required and support local communities' health, wellbeing and education, and continue to enhance possibilities for Qamea to be a better place for all who live on the Island. We plan to continue our environmental projects and get guests involved in environmental research such as Coral gardening programme, turtle population enhancement, or Iguana control. We have plans to continue our volunteer tourism projects where guests have assisted the village; such as in 2015 guests installed solar at the village donated by Jaycar in Australia, teaching assistance is schools, clean water and wastewater installation for improved sanitation, and monitoring and enhancement of food-gathering areas.
We are committed to continued promotion eco-initiatives for the future wellbeing of Fiji; Promote and grow Eco-Tourism by infusing the guest experience with the cultural, social, and environmental features of the local area to showcase that a business can operate with sustainably principles on Qamea Island. This includes:
1) Continuing to develop a business model for sustainable tourism that can be applied all over Fiji;
2) Continue to be an award-winning Eco-accommodation provider for travellers to Fiji;
3) Incorporate eco-tourism educational programmes for Fijians and overseas clients that benefit Fiji in the long term.